Following is a statement by our Ambassador to Israel, David Friedman, speaking at the America-Israel Political Action Committee (AIPAC) convention, which was made after he summarized United States/Israel relations since Donald Trump became President:
"Now, the events that I just noted are not just symbolic, they represent a fundamental shift – a sea change, if you will – in the way America relates to its closest ally in the Middle East, the State of Israel.
"As great as (UN Ambassador Nikki Haley and Vice President Mike Pence) are, and they are indeed great – and I thank you with all my heart for kindness you showed them last night, as great as they are, we all take our directions from the greatest friend that Israel has ever had in the White House, President Trump. My friends, we owe him a tremendous debt of gratitude."
To my "Lost Tribe" friends – the ones who support Israel but still think the Democrat Party is their bosom buddy:
Keep longing for those wonderful days of the Obama administration, guys.
Keep trying to convince yourself Israel got anything but the back of Barack Obama's hand.
And keep trying to convince yourself the Democrat Party, as an overall entity, still is the place to go for support of Israel.  Just pretend these poll data, which cover a period from 40 years ago to January of this year, don't exist: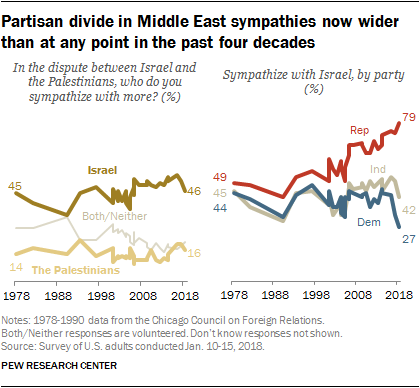 Yep, Democrats are the party of Israel support all right.
Enjoy your fantasy.