Here are the last two years, straight from the Bureau of Economic Analysis, via an article at bloomberg.com…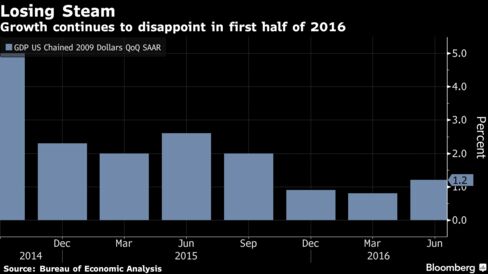 …and here is the entire Obama presidency: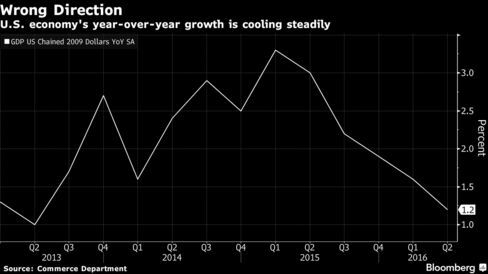 Impressed?
For two years, not one quarter has even 3% growth…with the last three averaging less than 1%.
Great, Mr. President and Ms. Clinton.  Just great.
For seven and a half years Democrats have told us that Barack Obama took over during the greatest recession since the 30's – a wild overstatement which mainstream media somehow never gets around to calling them on.  But, assuming it were true, where is the recovery to that recession?
In President Bush's 8 years, GDP growth averaged 1.7% a quarter – even with the recession. Obama and Clinton are talking about.  That's another little something you don't catch much of from our wonderful "neutral" media.
Oh, one other thing:  originally, the estimate for first quarter 2016 was 1.1%.  As always seems to be the case, it is adjusted downward during the second quarter.
This means a) it looks better than it is when first reported, and b) the next quarter looks better than it is, because the comparison is made to the downwardly adjusted previous quarter.
What an amazing coincidence….