I hope you have a good short-term memory.  Because the ABC News-Washington Post tracking poll, which covered interviewing over a four day period from October 19 – 23 and showed Hillary Clinton leading Donald Trump by 50% – 38%… …now, over the October 21 – 25 period, shows Clinton leading Trump 48% – 42%. That's a drop of half the entire lead
Here is how the poll has tracked, from its start to now: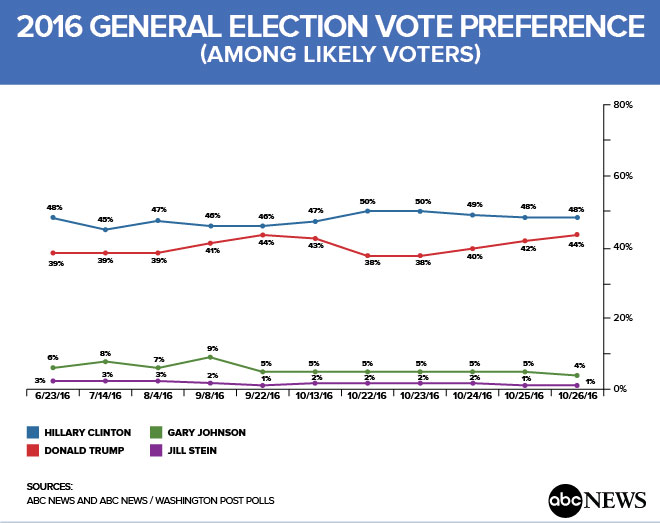 So, if you believe these poll data, Donald Trump has managed, in four days to erase two-thirds of Hillary Clinton's lead.
Oh, did I mention the fact that this poll is comprised of 37% Democrats and 28% Republicans…well in excess of the actual difference (which, based on Gallup data, has ranged from 2% to the current 5% this year.)?
Take that into account, and the this poll essentially shows the two candidates, at least nationally, in a dead heat.
One other thing:  before the Trump fans start dancing in the street, it should also be noted that the IBD/TIPP poll shows Hillary Clinton gaining ground – and now 3% ahead of Trump:
The bottom line?  Anyone who thinks this election is over, is making a big mistake.