Please watch the video.  It is all of 1:20 long.
And note how much reality, how much logic, how much flat-out common sense it contains.
It will make you sick.  But you need to hear it:
Tucker Carlson: "The 2020 election was not fair. No honest person would claim that it was fair" pic.twitter.com/o2pi2csQNn

— Andrew Lawrence (@ndrew_lawrence) November 24, 2020
Are you old enough to remember that 1970's poster which said "Just because you're paranoid doesn't mean they're not out to get you"?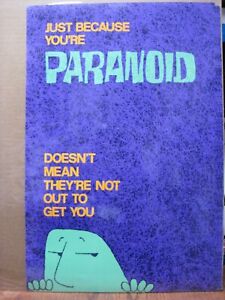 Maybe the 2020 version should have a picture of Donald Trump with the words "Just Because You Said "The Election Is Rigged" So Many Times That It Became A Stale Cliché Doesn't Mean it wasn't."
I wish Tucker Carlson was wrong about this.  But he isn't.
Sad to say, if we do not have full oversight of voting procedures every step of the way by both parties, paper ballots, and full oversight of every one of those ballots by observers from both parties, we will have no good reason to trust the results.