As you are probably aware, President Trump is in Texas today, meeting with officials and generally doing PR for his advocacy of a wall between the United States and Mexico.  So CNN sent Jim Acosta – one of its most visible and vocal Trump haters (among the overflow crowd of them CNN employs) to tag along.
Since Mr. Trump has talked about declaring a national emergency over illegal border crossings, and Mr. Acosta can never resist an opportunity to zing Trump about anything at all, this – via a tweet, with an accompanying picture – is what he had to say about conditions where he was standing: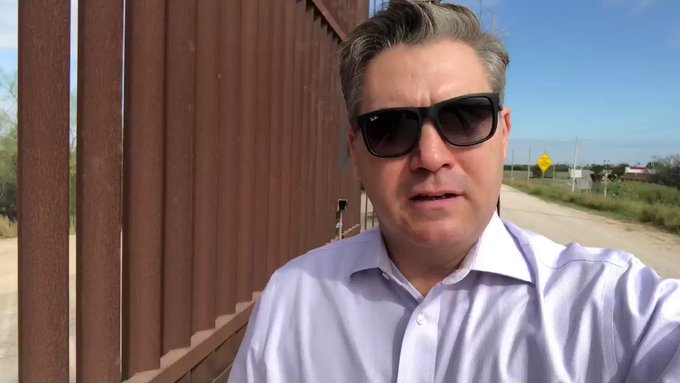 I found some steel slats down on the border. But I don't see anything resembling a national emergency situation.. at least not in the McAllen TX area of the border where Trump will be today.
(A 34 second long-form version of this tweet is voiced by Acosta, and can be found at allahpundit's latest blog for hotair.com.
Can this man possibly as stupid as he would have to be to say there are no problems at the border, while standing at exactly the kind of barrier President Trump wants to put up because it prevents such problems?
The answer must be yes, because that is exactly what this legend-in-his-own-mind genius is doing.
Doesn't Acosta realize he is making Trump's point, not his?
Doesn't he realize he is showing us that when there is a serious physical impediment, whether a concrete wall or a steel fence, it is less likely that people will try to cross the border?
I award Jim Acosta Quote Of The Day "honors" for making it so clear that his hatred for Trump has turned him into an obtuse, uncomprehending jerk of the first order, that, hey, even Don Lemon probably can figure it out.